Washington, DC is home to some of the country's best universities. With these schools come a massive influx of caffeine deficient students.
If you are a student in the District, you know how hard it can be to find good coffee in a city with so many over hyped, and often disappointing, options.
Fear not, as I have compiled 15 of DC's best coffee shops to suit your every need.
---
For Everyday Studying
La Colombe
All of La Colombe's DC locations have two things in common: great coffee and no WiFi. What this local favorite lacks in technological amenities, it makes up with a calm, comfortable work environment. The absence of internet creates the perfect space to tackle those textbook chapters you've been neglecting. Plus, if you have a mobile hotspot, there is ample seating and outlets available to hunker down and bang out those assignments that require the web.
Bev Suggestions: Latte, lightly sweetened with simple syrup
Tynan Coffee & Tea
This unassuming Columbia Heights cafe offers a relaxing environment for studying. Whether you're writing a paper or doing LSAT prep, Tynan's low music, friendly and laid back staff, and 12-hour WiFi codes (with purchase) create the perfect work environment. DC residents know that competition for seating at popular coffee shops can be fierce. Tynan somehow manages to always be busy while never getting crowded. Hop on the Green/Yellow line and check this place out!
Bev Suggestions: Dirty Chai
Compass Coffee
If you've been in DC for a few years, you've probably noticed Compass Coffee's sudden and dramatic expansion. There are now seven locations around the city, each as popular and packed as the last. If you are lucky enough to snag a table at this busy spot, you won't be disappointed by the strength of the coffee or WiFi signal. For many students in DC, myself included, Compass has become a staple in our coffee shop rotations. There's just something about the way the coffee tastes that can't be replicated.
Bev Suggestions: Drip Coffee, Maple Latte, Lavender Latte (seasonal)
For Group Projects
The Potter's House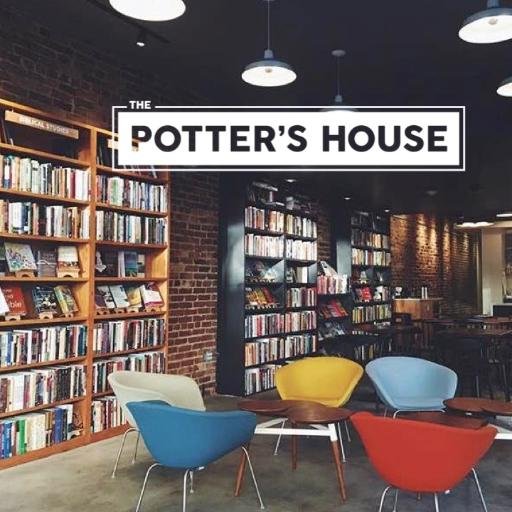 One of the most underappreciated shops in DC, The Potter's House is a warm and community-centered coffee shop in Adams Morgan. In addition to a lovely selection of art and books, this shop pulls a solid espresso and does so while giving back to those who need it most. The shop allows customers to purchase a hot cup of coffee for another community member who might not be able to afford one. Additionally, the store offers pay-what-you-can soup all day long for anyone who needs a hot, nutritious meal. There are a million reasons to support this amazing establishment, but the plethora of seating options and comfortable work environment also make it the perfect place to tackle a group project.
Bev Suggestions: Cappuccino
Kafe Bohem
This welcoming Shaw/Howard mainstay offers a large and welcoming environment for group project work. Before 5 pm this cafe churns out coffee and delicious schnitzel at wicked fast speed. Although you can always take your drink to-go, don't be afraid to settle down at one of the long workstations and enjoy the free WiFi and friendly staff.
Bev Suggestions: French Press
Peregrine Espresso @ Union Market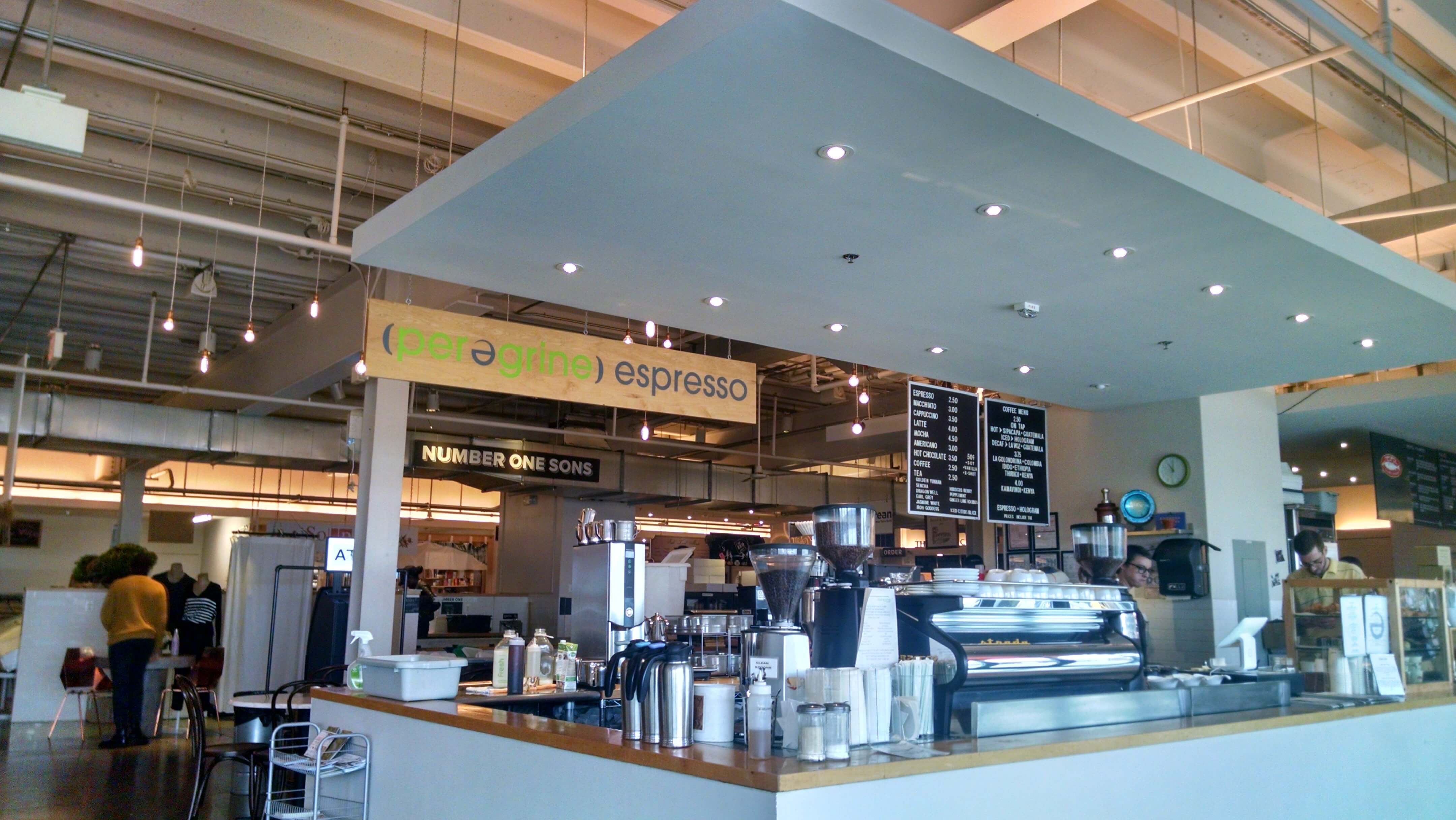 Union Market is everyone's favorite Sunday outing when the weather is favorable. However, on weekdays this is one of the best places to come if you want to spread out and get work done in the sun with friends (the incredible selection of food is an added bonus.) Peregrine pulls some of the smoothest espresso in the District. They also have an amazing non-dairy milk selection for their lactose intolerant customers (raising my hand).
Bev Suggestions: Oat Milk Latte, Italian Macchiatto 
For Cramming
Soho Tea & Coffee
This woman-owned Georgetown favorite stays open later than nearly every other coffee shop in the District. During finals week, it's open until a 11pm.
**applause erupts from the crowd**
Besides being a great place to go for a (semi)late-night study session, Soho also boasts one of the largest and most creative menus in DC. Whether you prefer your java simple or packed with sugar and flavor syrups, Soho has a drink for you. The prices are low, the seating is plentiful, and the WiFi is free. What more could any DC college student ask for? Oh, alcohol! In addition to having a massive coffee menu, this shop also has some well-priced beer and wine for after you finish your work… or before.
Bev Suggestions: Betty Boop, Triple Play, Cuban Coffee
The Den @ Politics & Prose
Slightly hidden in the rear of Chevy Chase's beloved bookstore, Politics & Prose, The Den is the perfect place to nestle away and tackle your most troublesome assignments. It's worth noting that the food here is pretty good as well. A few years back I got snowed in to this place and tried half of the menu in the hours I was trapped. Note: There is no WiFi available at certain times during the week, so be sure to call ahead before you make the trek up to Connecticut Ave.
Bev Suggestions: Cold Brew, Matcha Latte, Ginger Rosemary Latte (seasonal)
Kramerbooks & Afterwords Cafe
I'm sure that every college student in DC has spent a few hours and several more dollars than intended in Kramerbooks. If you haven't already, pop into the bar or cafe area and order some coffee and a snack from their late-night menu. When you finish, find an isolated corner (I'm partial to the children's section) and get your study on!
Bev Suggestions: Chilled Nitro Coffee, Americano
For Coffee-on-the-Go
Harrar Coffee & Roastery
If you haven't tried Ethiopian food and coffee in your time in DC… were you ever here? Harrar is a small, narrow coffee shop, but they roast their beans on site and have a menu that can please almost any palate. Whether you prefer a sweet, seasonal latte (no judgment here) or a strong black drip, Harrar has plenty of options for you. Try to stop by for one of their free, weekly cupping sessions.
Bev Suggestions: Ethiopia Sidama Medium, Vanilla Latte
The Wydown Coffee Bar
After your weekly Trader Joe's run, consider stopping by this 14th St favorite. Wydown somehow manages to balance being one of the most popular coffee shops in DC with being one of the most respectable and consistent. If you can find a seat, snag it and something from the Brewed to Order Drip Bar. Otherwise, make like the rest of us and grab a cookie and coffee to-go!
Bev Suggestions: Macchiatto, Mocha (extra chocolate, trust me)
Philz Coffee
It's not often that a chain coffee shop will catch my attention. When it does, I try to keep it on the low out of shame. I'm a snob, I know. Be a better person than I am. Walk into the Adam's Morgan Philz with your head up. The iced coffee is delicious, the service is swift, and the staff is as friendly as they come. Chain coffee is not something that I recommend often, so you know that this stuff is pretty darn good.
Bev Suggestions: Mint Mojito, Mocha Tesora
For a Date
Tryst
Want to have an intimate evening in a casually eclectic environment? Tryst is the place for you. This DC hub boasts a full kitchen, bar, and coffeehouse. Invite the pretty girl from your ECON 0100 class for a cup of coffee on one of this Tynan's many plush, vintage couches. Between the live jazz and low lighting, it'll quickly become an evening to remember.
Bev Suggestions: Lavender Latte (year-round), Tryst House Blend, Golden Milk
Slipstream
Few people in DC would dare talk down on this fresh and lively 14th St cafe. Love is often sparked over avo-toast and a good cup of coffee. Slipstream will bless any breakfast date with beautiful lighting and an elite crowd. If you prefer to visit in the evening, fear not, as they serve coffee all night long.
Bev Suggestions: Espresso + Tonic (seasonally available with a splash of fruit juice)
Dolcezza Gelato & Coffee
Why end your date with gelato when you can make it the main attraction! At Dolcezza, you can get a shot of espresso with your dessert or poured over it! The super sleek interior and locally sourced, organic ingredients are also sure to impress your partner.
Bev Suggestions: Affogato